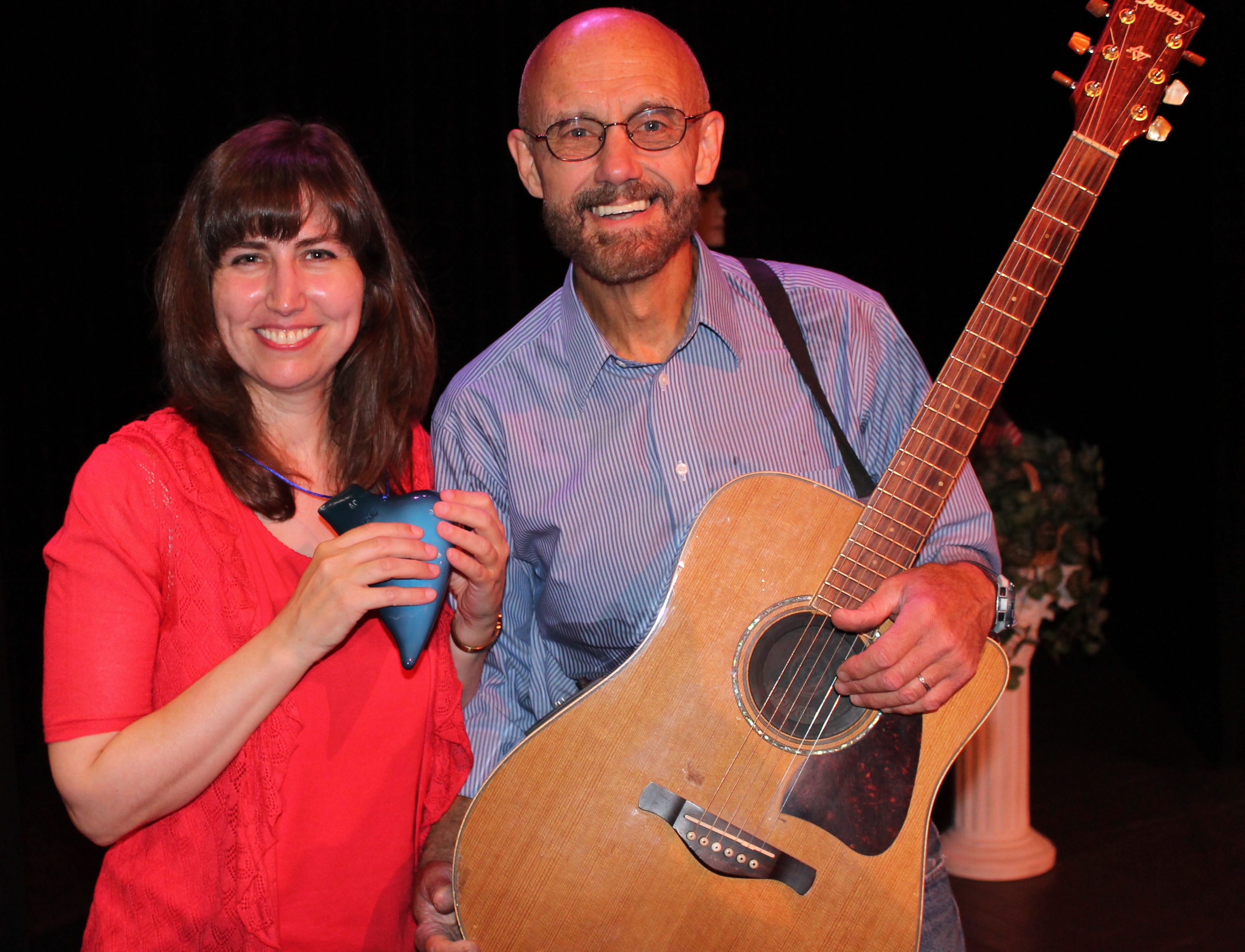 February 10th 2015 interview at WNIJ 
http://northernpublicradio.org/post/valentines-concert-evening-poetry-and-music-about-love
Ontonagon Herald
Trinadora at OTPA…who or what is Trinadora?
Harold S. Riter, Reporting
         Saturday, August 2
nd
 the Ontonagon Theater of performing arts was honored to host a very special musical performance by 
Trinadora.
  For those who have heard them before the name means a great evening of entertainment as well as  education.
         Ron Holm is the man with the guitar. Well known as the lead guitar and  vocalist in the band "Between Planes,"  Ron breaks off from the main group  from time to time along with Janel Nelson, another member of the group to present themselves as 
Trinadora.
  Ron is an accomplished guitarist and folk singer, but don't let this description fool you. He can do rock, blues, show tunes, and has a wide vocal range.  Holm also plays harmonica, and not just in accompaniment blues style, but when he puts both hands to the instrument, he is something of a virtuoso of the mouth organ. Ron has a great stage presence, in a laid-back manner, and the audience is immediately  his.
         Janel Nelson,  does keyboard and a variety of other instruments including melodica (wind keyboard instrument that would be similar to a harmonica with a keyboard), concertina castanets, and the ocarina.  A year ago Janel introduced the ocarina to the Ontonagon stage. Also called a "sweet potato," it is a chamber flute with a haunting and very pleasant tone to which she applies a nice vibrato.
         Both, of course, sing, Ron Holm in a baritone voice that carries well with or without amplification but can dip into the basso profundo or rise to a medium tenor. Janel is a mezzo soprano who can, on occasion, dip into a very lush alto range. Janel sings with a clarity that must be hear to be fully appreciated. When she sings, her smile rivals the piano keyboard in a flash of white!
         Holm is quite evidently a disciple of the late  Roy Orbison and the duo opened the program with "Only the Lonely."
         The old Ernest Tubb's signature tune "Walking the Floor Over You: was next  with a slightly different twist te renditions with Holm's harmonica work.
         Holm and Nelson had collaborated on a number entitled "Retro- Rockin' Roadhouse during which Janel did a very convincing  Jerry Lee Lewis  chorus on the keyboard.
         Other numbers presented, all with the personalized touch of these two performers included "Tennessee Waltz, " Beatles' "Love,  Love Me Do" (with embellishments with tambourine) and McCartney's Ob La Di Ob La Da with Ron Holm on, of all things, a kazoo!
         "Stupid Cupid" again featured Janel doing her Jerry Lee Lewis thing, and then a sudden change to a nostalgic tune by Ron Holm, "Your Voice Once Again" in memory of Roy Orbeson.
         "Jambalaya" featured Janel on Concertina in real Cajun style. 
         One number stood out in the first set as quite different. "Over the Rainbow," which is so closely associated with the 
Wizard of Oz 
and the late Judy Garland that is something of a musical icon was presented in what Holm described as a "jazzed up version," very light and with a very nice simply harmony between Janel and Ron.
         After a brief intermission, the duo returned to the stage and Ron did his Johnny Cash thing in "Ring of Fire "with Janel on melodica and Ron sounding like a full band, thanks to his electronic manipulations of his guitar.
         Janel now did the Patsy Cline thing in "I fall to Pieces" in a low alto range.
         "Who We Are" by Ron Holm for his wife (who was present), "Like the Waters of a Bayou" (by Nelson and Holm), and "Thorn in My Heart" also by the duo were thoughtful musical expressions of personal express
ion.  
         "Rollin' Home to Rockford," a tradition with 
Between Planes
 and 
Trinadora
 concluded the regular program, but the audience was not satisfied until an encore was offered…."You Are My Sunshine' with audience participation.
         OTPA's sound guru, Dave Bishop is a long associate of Ron Holm and expertly handled the sound for the evening.  Holm has played many concert halls and on many stages in over 50 years of performing and he described the Ontonagon Theater of performing arts a "a jewel in the community."  Come back again. Ron and Janel. You have a place in Ontonagon.